Mrs. C's Fantasy Boudoir Experience // Norfolk Premier Fantasy Boudoir Studio
Do you ever feel like you were meant to live in a whole other world, as a totally different person?? Our client today did. She wanted to become a fairy that existed within the world of a mythical collection. Here at the Studio, we can grant you access to your dreams and fantasies, while also embarking on the journey of self-love and discovery!!
Why did you want to do a session with Sarah McDaniel Studio?
"A wonderful gift for myself. I wanted to become a fairy for the unicorn collection I have had since a little girl."
We are so glad that you chose our team to bring some of your most cherished memories to life. We are always excited when clients come in with a certain vision and theme in mind. It makes our day when you can feel like you are the character or object of your dreams.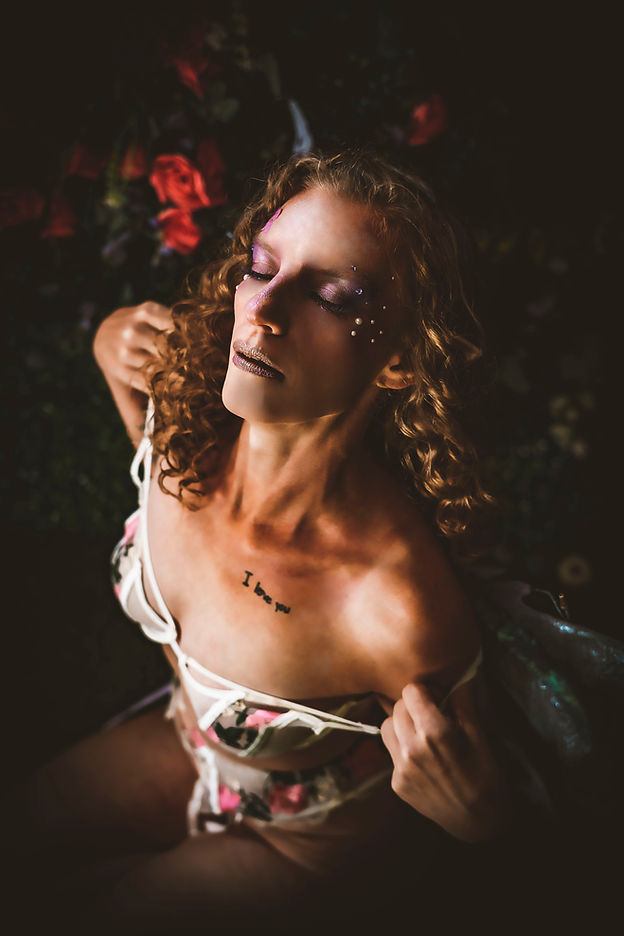 What was one of your biggest fears about

the

boudoir and how did we help you overcome them?

"Being elegant enough to become a fairy. Sarah and her team helped me choose the right outfits and hyped me all along the way."
Many women believe that they are not going to be able to pose or "look sexy", and we are here to tell you that is absolutely not true. Every woman has her own look and body, and that is what makes you uniquely and perfectly you. We want you to feel like you can be anything here or try anything here. You deserve to feel as though you are the most beautiful person that walked in the room.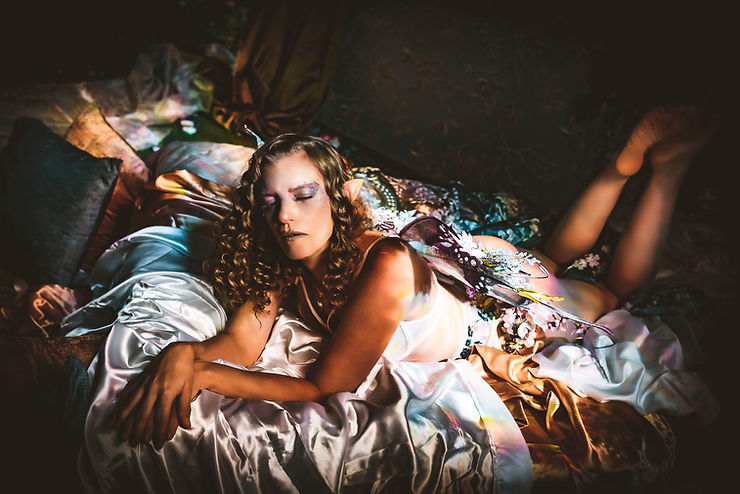 Which studio did you choose? Did you choose any add-ons?
"I chose the rose garden because it just screamed magical fairy to me. I added on the SFX for the wings and ears and also the snakes as well."
The Rose Garden gives a very enchanting and fairy book feeling. The flowers and the silks make the room feel as though are being consumed by beauty. We also have several mirrors in this space that allow us to take more unique shots. Did we mention the rainbows? There are tons of them that come through the stained-glass window. The special effects wing and ears really made the whole look, and the snakes are always a great choice for

a

boudoir.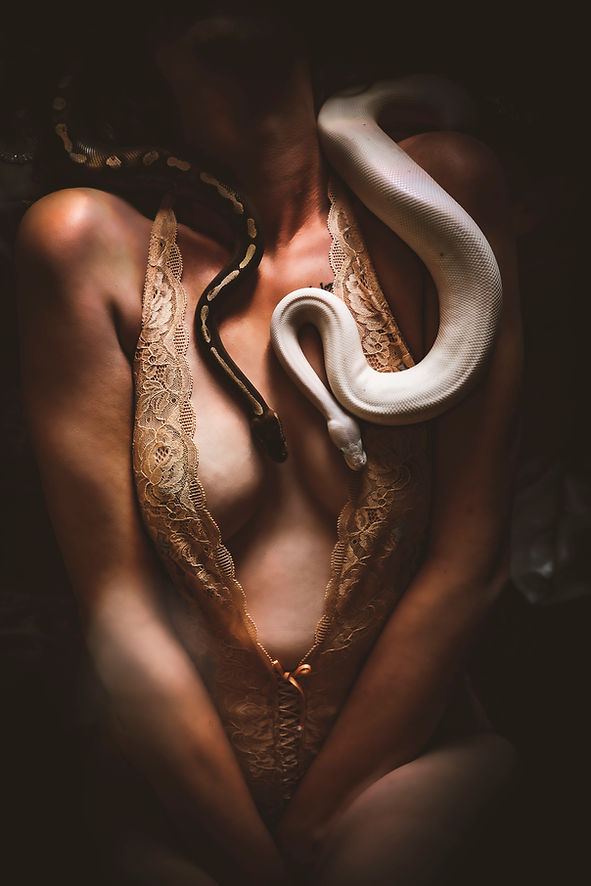 What was your favorite part of the session? Did you have a favorite lingerie piece?
"Favorite part was actually becoming a fairy. I felt as magical as my unicorns. My favorite lingerie option was the long sleeve green piece."

Turning into something that you love always makes for an incredible session. We also loved the green long sleeve. It is one of our sisterhood pieces that

make

for a very romantic and elegant look. It gives you the opportunity to cover up some more, but also have a gorgeous peek of your cleavage. It fit you so perfectly!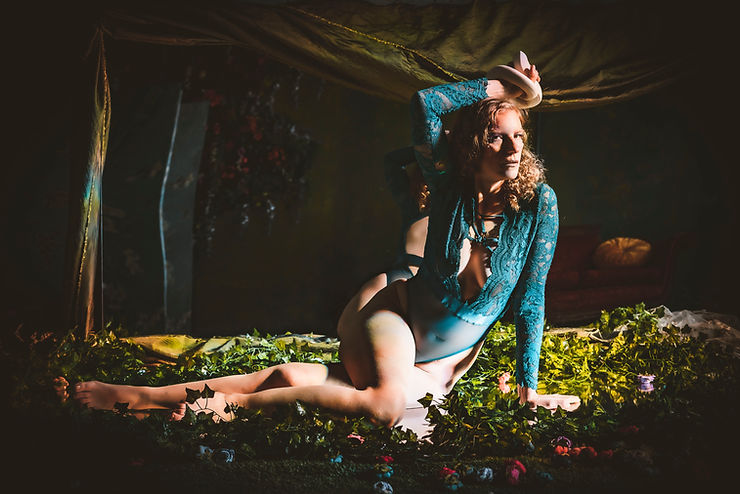 What would you say to someone who is interested in booking a session with us?
"Don't hesitate, just do it. You can trust Sarah and her team to make your dreams come true."
Here at Sarah McDaniel studio, we strive to ensure you have the best possible experience. We also love that you trusted us to make one of your most meaningful memories and pastimes come true. You were a beautiful depiction of the unicorns that you love, and we hope that you will always feel confident in your beauty.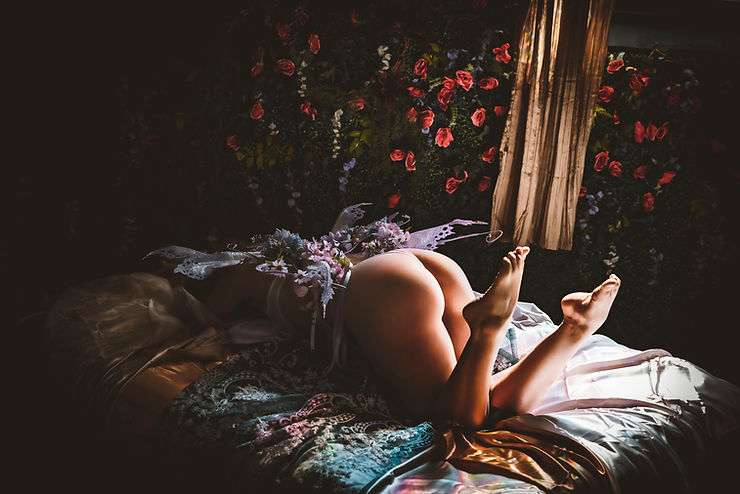 If you were to come back, which studio would you choose?
"For my third time it would have to be the green house. I haven't done that one yet."

The Greenhouse Studio is of course an amazing choice. It is full of plants, and it gives an Amazonian feel. We would love to have you come back again and try out the original studio that helped us get to where we are today.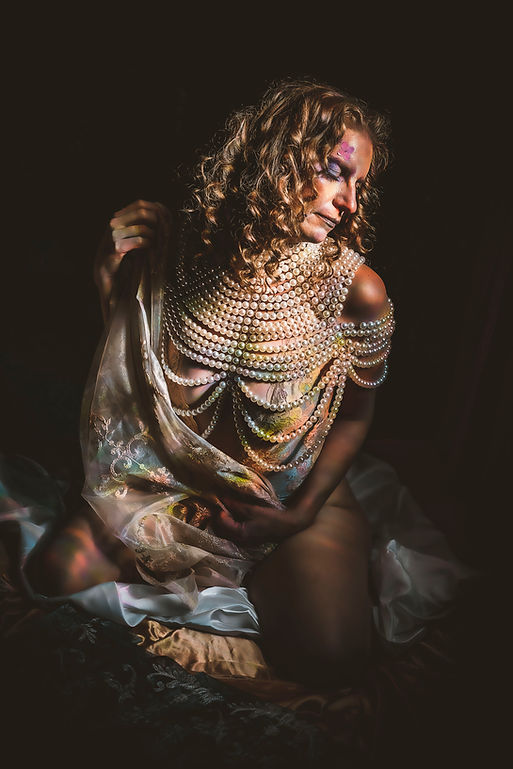 norfolk boudoir photography
best boudoir photographers
boudoir photographer
Hampton Roads Boudoir Photographer
boudoir photography
full service boudoir portrait studio
hampton roads boudoir photography
virginia beach boudoir photography